Meet the Team at Innate Wellness
Glenna S.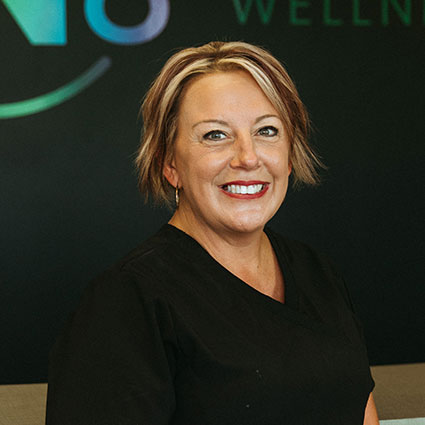 Get ready to meet Glenna, the most fun-loving massage therapist in Knoxville, TN! Glenna is a proud Tennessee School of Therapeutic Massage graduate, a nail tech, and certified chiropractic therapy assistant. But that's not all! She's also a mom to five amazing kids, a "GiGi" to 4 grandchildren, and a loving wife to her wonderful husband, Travis.
When she's not helping her clients find relaxation and relief through massage therapy, she's running a food truck with Travis called The Crave! They serve up delicious food that will make your taste buds dance with joy. When they're not working, they love to gather around a campfire with their friends and family.
Glenna is the kind of person who brings joy and laughter wherever she goes. Her clients love her and always leave feeling refreshed and rejuvenated. So why not join the fun and book a massage with Glenna today? You won't regret it!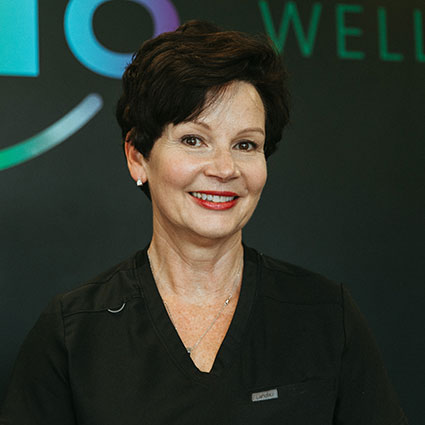 Brigette G.
Well, well, well, look who we have here! Meet Brigette, a true Maryville native and Friendsville High School alumna. Brigette has two grown children, Emily and Andy, and two grandsons Michael and Elias to keep her on her toes, this woman is no slouch! She loves staying fit with workouts and pilates, taking long walks, whipping up some delicious meals, and even tickling the ivories on occasion. But that's not all folks! Brigette is also a superhero at the front desk, putting smiles on patients' faces left and right. And as if that wasn't enough, she's currently working towards her chiropractic therapy assistant licensing. Watch out world, Brigette is coming in hot!


Melissa C.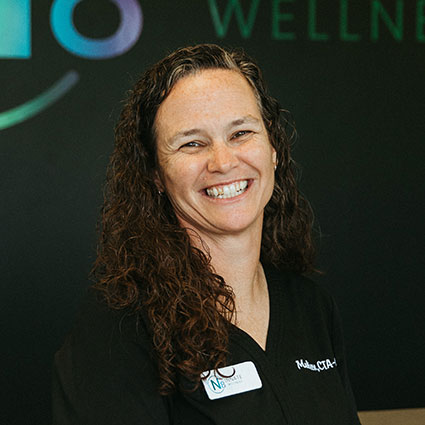 Meet Melissa, a native of the Sunshine state by way of Fort Walton Beach. After graduating from Choctawhatchee High School (try saying that 3 times fast!), she pursued her passion for accounting and obtained her associates degree from the local community college. Melissa's love for sports started at a young age, and she continued to play softball and soccer at Carson Newman College.
In 2003, Melissa relocated to Knoxville with her two sons, Hunter and Hayden, and has since fallen in love with the beautiful mountain scenery. She and her boys enjoy spending their free time exploring the outdoors through mountain biking, hiking, and camping.
Melissa has a wealth of experience in retail management, having spent over 20 years in the industry. However, a life-changing experience with chiropractic care inspired her to pursue a career change, and she's now found her true calling at Innate Wellness as the office manager. With a passion for knowledge, Melissa obtained her chiropractic therapy assistant and chiropractic x-ray tech license in 2020. Melissa is dedicated to ensuring that every patient feels valued and cared for during their time in our office. It's her top priority to make sure that each patient walks out of the door feeling better and more supported than when they walked in.
CONTACT US


Meet the Team at Innate Wellness | (865) 240-4966