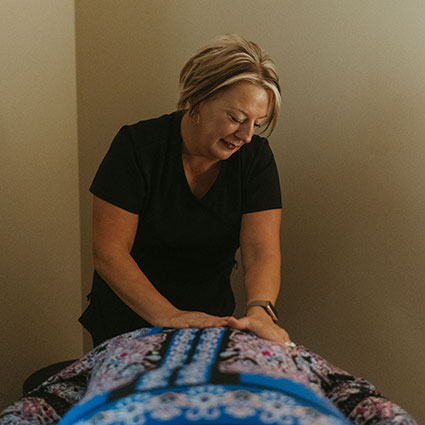 Massage Therapy in Knoxville
Massage therapy is an important type of holistic healthcare option we provide at Innate Wellness. Our expert team can work with you to relieve pain, reduce stress, and reset your body's innate ability to heal through therapeutic massage. The techniques and education we offer are trustworthy and reflect our integrated approach to your health.
While chiropractic adjustments are concerned mostly with spinal issues and your body's skeletal alignment, the focus of massage therapy is on the muscular side of your body's musculoskeletal condition. Since we see these aspects of your body as interconnected, we recommend combining chiropractic care and massage therapy. This uniquely holistic approach lets us take care of the whole problem and not just one part or the other.
Many of the practice members who receive massage therapy are experiencing muscle spasms that need healing or have a muscle imbalance that needs attention. To relieve the tension, our massage therapy is often slightly uncomfortable without being too intense-it is not a spa or relaxation massage, but it is also not our intention to cause acute pain. In the end, the relief and restoration will far outweigh any momentary discomfort.
NEW PRACTICE MEMBERS

Massage Techniques Offered
Our massage therapist has been practicing for over 10 years and is certified to utilize various massage techniques and instruments to mobilize your muscle tissue. The wide variety of modalities gives us the flexibility to offer you care that specifically fits your body's exact needs. This includes:
Trigger point therapy
Cupping
Scraping
RockBlades
RockPods
RockTape
Deep tissue massage
Prenatal massage
As our massage therapist keeps up on the latest techniques and adds to their impressive list of certifications in both massage and chiropractic care, we are confident that Innate Wellness offers best-in-class service for our practice members. Just like all our other treatment options, we will talk with you about your specific situation and tailor a plan for massage therapy that applies to your needs.
Get Started
A final benefit of massage therapy with us is how easy it is to get started. Find out if this type of therapeutic care is right for you. Contact us today to schedule an appointment.
CONTACT US

Massage Therapy in Knoxville TN | (865) 240-4966