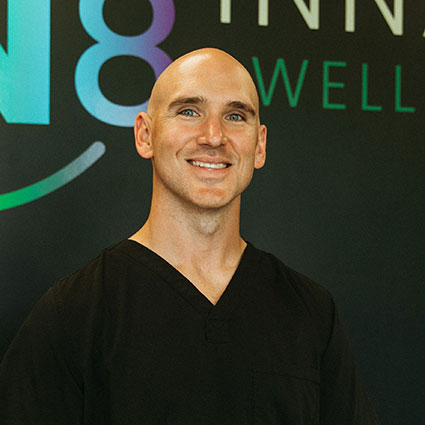 Meet Dr. Chris Talley
Dr. Chris Talley is a dedicated chiropractor who is devoted to improving the health and well-being of others. Born and raised in the beautiful hills of east Tennessee, Dr. Talley learned the value of hard work, perseverance, and community at a young age. He excelled in both football and baseball at Alcoa High School, and continued his football career at Rhodes College, demonstrating his commitment to teamwork and excellence.
Before he became the leader at Innate Wellness, Dr. Talley was a new college graduate working as a front desk clerk at a hotel in Memphis, Tennessee. One day, he met a guest who went by "Dr. Matt."
When Dr. Talley found out that Dr. Matt was in chiropractic care, he thought to himself, "Oh, I didn't know chiropractors were doctors," Dr. Talley says now with a laugh. But the idea of solving people's needs through holistic wellness and chiropractic care appealed to Dr. Talley, so he soon enrolled at Life University in Marietta, Georgia. It was this chance meeting that launched Dr. Talley onto his new path, as if it was always meant to be.
Having grown up in Knoxville, Dr. Talley returned to begin his own chiropractic practice-and he has not looked back. He then worked as an associate chiropractor for two years before opening his own practice, HealthSource Chiropractic, in 2013. Since then, Dr. Talley has helped countless patients overcome pain, achieve optimal health, and live their best lives.
A Way to Serve
More than anything, Dr. Talley enjoys connecting with people and helping them overcome pain and get back to experiencing life the way they want. He is a growth-oriented leader who was influenced growing up by family members serving in the medical field as nurses.
He is always excited to care for people with his knowledge and gifts. He genuinely cares for everyone who comes in to get treated and is passionate about giving them the best treatment possible.
Away From the Office
Dr. Talley's passions extend beyond the office. He values family time with his wife Sabrina and their two daughters, Madeline and Maevory, coaching alongside his wife both girls' softball teams. He also loves to get out into nature, camping and exploring the beautiful Smoky Mountains whenever he can.
The family attends All Saints Catholic Church in Knoxville and are fans of the University of Tennessee. Go Vols!
Certifications
Dr. Talley is focused on being able to provide the best value to his practice members on a daily basis. He regularly spends time outside the office honing his craft by learning new techniques and achieving certifications in chiropractic and holistic wellness care.
A brief list of Dr. Talley's specialties include:
CrossFit training
Extremity care
Rock Tape
Functional movement training
Get Started
Overall, Dr. Chris Talley is a humble and hardworking individual who strives to make a positive difference in the lives of those around him. Meet Dr. Talley by scheduling an appointment today. He looks forward to welcoming you into the practice.


Dr. Chris Talley | (865) 240-4966